The Spring Valley Golf Club reopens for Parker Task Force after devastating flooding.
Volunteers and the course GM save the 2015 PTF Golf Tournament. Read the full story in the Parker Chronicle
---
Food Drive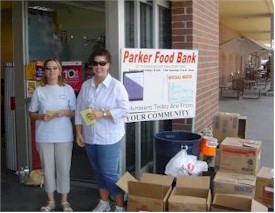 Saturday August 15th, 2015
Current Needs List
Locations
Dollar Tree - Parker
King Soopers - Stroh Ranch.
King Soopers - Stonegate.
Safeway - Parker
---
---

Best Local Non-Profit Organization
Parker Task Force
---
Parker Task Force
20118 East Mainstreet, Unit D
Parker, CO 80138
Phone 303-841-3460
eMail foodbank@parkertaskforce.org
---
Need Assistance?
Click here for more information.
The dream of a new PTF building
will be a reality within a couple of weeks
Donate to our Capital Campaign for the new building
---
Who We Are
The Parker Task Force is a non-profit organization operated by dedicated volunteers.
Our Mission
The Parker Task Force is dedicated to providing individuals and families in our community with food, limited financial assistance and other support services to help them become self-sufficient. These services will be delivered with compassion, dignity and respect by our 100% volunteer staff. More about us.
How You Can Help
The Parker Task Force has seen an unprecedented growth recently.
We need food! The Parker Task Force Food Bank appreciates your NONPERISHABLE donations! See our Current Needs List. Donations may be dropped off at the Food Bank during normal hours of operation.
We need volunteers! PTF needs volunteers for food drives.
Call 303-841-3460 to help or click on Volunteer or Donations for more information on how you or your organization can help. - The need continues!
Donate Your monetary contributions are always needed. Click on Donations for more information.
Donate Online - If you are a Colorado resident you can make a secure online donation on our Donations page.
Contribute to our Capital Campaign - The Parker Task Force, in order to continue to meet growing demand for our services, has announced a Capital Campaign. Read more.
Annual Golf Tournament - The Parker Task Force (PTF) holds an annual golf tournament to help raise money for our much needed capital campaign. More Information
Host a Food Drive - Anyone can be involved by organizing a food drive, including schools, small businesses, corporations and churches. Read more.
Donate to the Thanksgiving Dinner Program - Meals are provided to client families to take home and prepare. More Information
Christmas Adopt-A-Family Program - We rely on the wonderful citizens in Douglas County to help us out with donations of food and money and you do! The incredible generosity and giving spirit is a constant source of joy for all of us. More Information
Donate A Car To The Parker Task Force - Want a tax benefit and a way to help the Parker Task Force? Donate any car, truck, RV or boat. Be spared the ordeal of selling your vehicle and make a valuable contribution to your neighbors in need. More Information
Sell Items On eBay - When you sell on eBay you can donate a portion of your proceeds to The Parker Task Force. eBay has a dedicated program for charity listings where you can donate a portion of your proceeds to the Parker Task Force. More Information.
Start your Amazon.com shopping at AmazonSmile - AmazonSmile is a simple and automatic way for you to support the Parker Task Force every time you shop at no cost to you. When you shop at smile.amazon.com Amazon will donate a portion of the purchase price to the Parker Task Force. More Information
---